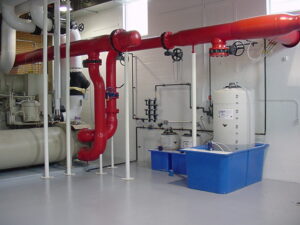 Total Water Management. . . custom designed
Boiler water, cooling water, and closed loop systems.  Waste water and potable water systems.  Each has unique challenges when it comes to a treatment program, but the bottom line is still efficient operation at a minimal cost.  An important part of this is keeping the waterside surfaces clean. These surfaces can suffer from scale, corrosion, fouling, and/or biological contamination that lead to increased energy costs, decreased efficiency, and decreased life expectancy of the system and equipment. A complete water management program that addresses these potential problems is essential.
From start to finish, we plan your program with that goal in mind. By letting us manage, service and maintain each of these systems, your concerns can stay focused on what you do best.